We offer complete customized bridal service packages for the bride and her wedding party. Our coordinators work closely with the bride and groom to create the perfect salon and spa packages for you and your wedding party.
In order to accommodate your needs for this very special day, we suggest that you begin planning several months before your wedding day and photography session. Our services are often booked quite far in advance and it is best if you finalize your service needs early in the planning process to ensure a seamless transition of beauty and relaxation for you and your bridal party. Check out our WeddingWire page with photos and reviews here!
On your wedding day, you deserve to look your best and feel like you're walking on air. You have enough to worry about on your day without doing your own cosmetic wedding prep, so let the expert estheticians at Varuna Salon Spa of Annapolis, MD, take care of all your hair, skin, and makeup needs on your day with our comprehensive wedding services.
Our Cosmetic Wedding Services
We can provide total hair and makeup services for your wedding photography sessions as well as the wedding day itself. Whether you choose to have your party come into our Salon & Spa in Annapolis or need our services at the site of your wedding, Varuna Salon Spa's estheticians and makeup team can ensure everyone looks their best in the photos you'll have for years to come.
We are the only salon in the area to use Aveda products in our treatments. Varuna Salon Spa uses Aveda hair and skin treatments to give your hair and skin the natural beauty that comes from the health benefits of pure plant extracts.
Book our services and let us make your wedding that much more relaxing and enjoyable.
Here is what our Bride's are saying!
Kristen · Married on 07/05/2019 5.0 Just what a bride needs!
Lauren went above and beyond to coordinate all of the bridal services. The morning/afternoon before my wedding was very relaxing. The staff is very professional. Both my hair stylist (Brittany) and makeup artist (Natasha) created such a fun experience for me. I'm very thankful that I chose this salon! All of my bridesmaids loved their services as well.
Laura Steppe · Married on 05/19/2019 5.0 The absolute best!
I could not have felt more comfortable and beautiful having the Aveda team in my home on my special day. Their makeup artists and stylists are incredibly talented, professional and wonderful people to work with.
Kim · Married on 02/09/2019 5.0 Amazing!
Absolutely amazing!!! So great with organization. They created the schedule which took a huge load off my as the bride. VERY flexible and helpful. We came to the salon the morning of and it was amazing. I have never been to a salon before a wedding they have always come to us. They do that service but I was getting married 1 mile away so I figured try going there. Allowed us to bring food and drink and really enjoy and celebrate as a group. Everyone working there was so nice and helpful. Everyone was very happy with their hair and makeup. We even had 2 little flower girls running around and they were so great with them. HIGHLY recommend.
*We do offer offsite wedding services as well. Please contact our Wedding Coordinator directly regarding pricing for that; info@varunasalonspa.com.
Just for the Bride
Bridal Hair Consultation
$90 per hour
Bridal Makeup Consultation
$65 per hour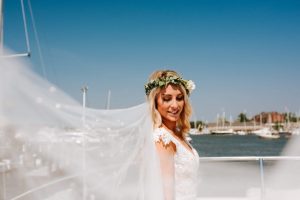 Photography: Love to the Core Photography
Bridal Makeup
Our talented makeup team is led by our wonderful Senior Makeup Artist, Brittany North who has been a makeup artist for 10 years with extensive experience in doing makeup for New York Fashion Week and Bridal Fashion Week. See her bio here!
Whether it's a special occasion or a Wedding party, our artists are well equipped to meet your needs. Aveda's all-natural minerals and pure, plant-derived ingredients with the most advanced flower and plant technology provides everyone with a high performance makeup that delivers significant results.
Bride's Make Up Application
$85+
Senior Artist Bride Make Up Application
$100+
Senior Artist Bridal Party Make Up Application
$100+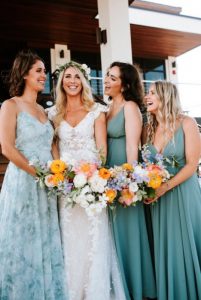 Photography: Love to the Core Photography
Bridal Party Services (Wedding Day)
Varuna Pure Abundance Blow Dry
$60+
Varuna Bold & Beautiful Blow Dry
$70+
Cosmetic Application for Bride
$85-$100
Cosmetic Application for Bridal Party
$85-$100
Groom/Groomsman Shampoo and Style
$25